Pax-i OPG is an economical first entry system with superior image quality. The system is equipped with two Built-in Sensors - Specialized for Pano & Ceph to streamline workflow and prolong lifespan of sensors.
It has a very modern and compact design to fit nicely in small rooms or next to your existing x-ray machine. 
PaX-i provides the most precise and high quality panoramic image by innovative imaging process and accumulated experience in dental imaging from Vatech. It improves your diagnostic accuracy with increased treatment planning and patient satisfaction.
Optional Cephalometric (Scan Ceph)
PaX-i provides optimal images with an exclusively designed sensor for cephalometric diagnosis. It offers two image sizes, LAT and Full LAT, you can choose one of them based on the purposes of your diagnostic needs.
The best entry to medium level system, economically designed to fit your needs at a conservative budget.
Insight OPG system is one level up from Pax-i.  It offers an advanced image solution with depth added panorama and a faster Ceph scanning.
Insight, A One Step Ahead
Insight PAN provided by PaX-i Insight is a step forward technology from the traditional way of acquiring images along a single focal layer. It acquires multi-layer images and automatically combining them to provide depth information to panoramic image.
Because Every patient has different types of arch. And the inclination of tooth may differ from person to person Insight PAN serves multi layers which add depth to panoramic image. It allows you to have insight with the depth information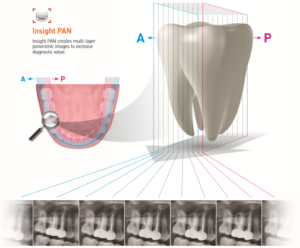 Fast Scan Ceph (1.9sec)
The fast scan Ceph minimizes motion artifact and enable faster workflow.
Superior Image Quality

Insight OPG is your best solution to differentiate your practice with a faster Ceph and innovative multi-layer feature system.
A Real Value in an Innovative Products and a Premium Service.