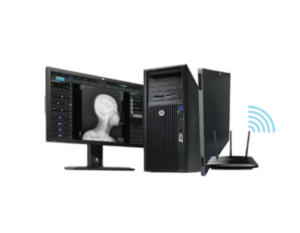 Digital Acquisition SYSTEM "ACQUIDR"
The DR upgrade "AcquiDR" is equiped with a light weight flat panel detector (FPD) designed for digital radiographic systems.

The AcquiDR comes with either a tethered or wireless FPD, or a combination of both.

The wireless detector communication enables easy migration between table, above the table, chest stand, and mobile cart applications.

The 16 bit digital FPD generates an outstanding image quality at a transfer speed up to 5GHz.
Water resistant (face-up) and dust proof detector.
Resistant to load and shock
10 minutes to upgrade to DR system through the Automatic exposure detection (AED) detectors.
The DR upgrade kit includes PC workstation with a fully featured  RADMAX II software for patients' data management and image processing.
RADMAX operating system is designed with operator in mind, allowing fast, accurate and easy operation.
Two clicks to remote service support.
Why Flat Panel Detector?
Optimize your workflow
Improve diagnosis by better visualization of the anatomical structures at a much lower dose
Improve the x-ray tube efficiency and hence the life time of your x-ray machine
Long term solution to protect your investment
Stay up to date with the recent technology
More comfortable to your patients. More convenient to your staff